Jio vs Airtel: Who would win and why?
There is an intense battle between Jio & Airtel to dominate the Telecom industry. It is time for Jio vs Airtel. While Jio lost stream, Airtel came back stronger into the competition head to head against Jio. With more time to come, the battle is getting closer and closer. The third competitor that is VI India is nowhere close to both of them.
The Jio vs Airtel Battle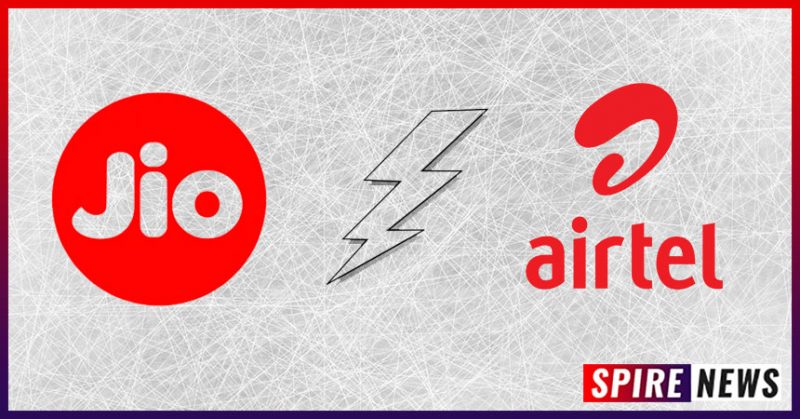 It's a no-brainer that Jio will be the leading telecom provider in India with its 4G network. Many people said that Jio will never make a dent in the competition. But, it is apparent that Jio is a unique company. Airtel with its well-established infrastructure is struggling to keep up with the speed of the Jio 4G network. The only problem for Airtel is they are not customer-centric. 
To summarize, Airtel has one of the best 3G network in the country and Jio with its 4G network, they have one of the best 4G networks in the country. In the survey done by TRAI, the download speed of Jio is said to be twice as fast as the Airtel network. The current tariff war between Jio and Airtel will soon escalate as Reliance Jio has confirmed to withdraw the free service for all customers.
Airtel's Advantage
For the past 25 years Airtel has led India's digital transformation & today we are proud to become the first telecom company in India to successfully demonstrate LIVE #5G services over a commercial network in the city of Hyderabad. #Airtel5GReady pic.twitter.com/Vx7rSAXNty

— airtel India (@airtelindia) January 28, 2021
The first advantage of Airtel over Jio is that it has the widest coverage in India. Airtel covers around 440 million people which is 85% of India's population. With this network, Airtel has the advantage of being able to offer the best network and services to its customers. This makes Jio vs Airtel more interesting to see. As of today, Airtel has come out as the first real winner and has managed to hold its position with the widest network. 
While Jio is offering 4G broadband services and voice calls, Airtel has a wide range of services including 2G, 3G, 4G, and 4G+ networks. Jio's Advantage It is not only in terms of networks where Jio has the advantage. It is also the advantage of being a home-grown company, a manufacturer, and a developer of telecom equipment. This ultimately gave rise to the topic today which is Jio vs Airtel with respect to Airtel 5G
The Jio Advantage
Everything was looking so bright for Jio but now it has lost some major customer base after the DTH fiasco. But to compete with the other companies, it has to make the service better than the rest and this will happen in future. The advantage Airtel had started off with a lot of things being similar but now the time is passing and the companies are trying to make everything better. 
Jio vs Airtel: The Duopoly 
Considering the less share of VI India, there is clearly a Duopoly in the markets. Competition plays a key role in the market and aids in keeping the prices low. Monopoly is very bad for the market. Even now, having a third major player would give a better competition for the market. Check out: Loki Episode 1 Review: Marvel's God of Mischief
Conclusion
To wrap up, Airtel has already made it the first telecom operator to test 5G in India. It did so in January 2021. Airtel claims to deploy 5G with the push of a button. Whereas on the other hand, Jio has not tested 5G yet in India. It is only speculated by the company that they will test 5G in the forthcoming months. This is an important factor to consider when one is looking at Jio vs Airtel.
With Jio lagging on the Jio Phone & Jio Phone App release, it is time for Airtel to gain back its momentum. Airtel has set aside a whopping Rs. 2000 crore to develop apps for Reliance Jio Phone and Jio Phone. We can expect to see some cool stuff on that front by Airtel. The competition is getting intense between both of them.