Fi Money Neo Bank, all Digital & 0 Physical!
It has been quite something since Neo Banks has been around. Fi Money is one of the Neo Banks which everyone is buzzing around. Is it good? Let us find out in this article. First of all, Neo Bank simply implies a bank that is present digitally. Neo Banks do not have any physical branches that one can visit. It is all online through the website and mobile app.
The concept of Neo Banks is more popular in other countries rather than in India. Indians mostly find it difficult to trust someone with their money which doesn't actually exist. This is mostly true for the older generations. The newer younger generations really like this idea. All of this has resulted in the increase of new Neo Banks in India like Fi Money. Even Paytm Payments Bank is an example of the same.
Fi Money Neo Bank Review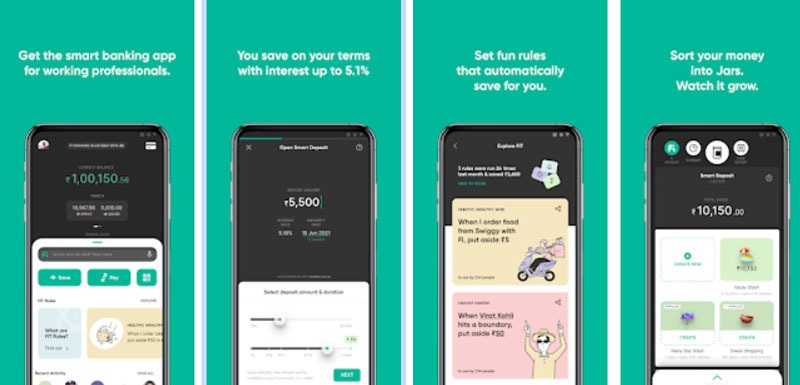 Fi Bank is in collaboration with Federal Bank which everyone is aware of. The Fi app allows you to create your savings account quickly within 10mins. It comes with a host of things such as the ability to track organize your funds. For every saving, you get rewarded with coins. Through the app, you can automate your payment.
There is no minimum balance required as well. Fi claims it to as the Banking 2.0 standard. It revolutionizes the way people do banking. It is certified by RBI as well. Here are the main highlights of Fi Bank:
RBI insured money up to 5akhs.
0 minimum balance.
No hidden charges.
ATM Withdrawal Support.
Quick Customer Service.
Smart Fixed Deposits & Savings.
Money Plant Coins to earn rewards.
Download Fi Bank App on Google Playstore
The AI Features
The FI Bank App features an AI toolbar that allows you to search all your transactions in a fast and elegant way. You can simply ask it to show all transactions with a particular person or income or your expense for one day and so on. It's just like talking to Google Assistant.
There is also something called FI Rules. It is similar to Spenny App features. With this, you can set up rules for saving money and keeping it aside in your smart savings or FDs. Eg. You can set a rule to round up your Zomato order to the nearest 10s or 100s and save it for you. Users can create their own FI rules or use the most popular ones created by others. Check Out: Jio vs Airtel
Once an account is created, within 10-15 days, the user receives a Visa International Debit Card from Fi Money. The card is issued free of charge with no annual charges as well. One-time replacement in times of theft is free as well. All of these are indeed great.
Oh yes, you can also ask for chequebooks of 5 leaves twice within 6 months for free.
The Bad Side to FI Money Neo Bank
Although in our use, there were not many negatives. Let us look into some which we encountered. Once registered, the user is ready to go and use it. However, the user needs to do additional KYC for removing the 1-lakh balance limit. It is the rule from RBI.
The problem over is, no matter what time of day it is, you cannot get your KYC done. We have been using the app for around 10 days. Even after multiple attempts every day, we were able to get an agent on board to get the KYC Video Call done. According to Customer service, this is because of the limited staff availability due to the Covid-19 lockdown. But, this is not acceptable considering it has been 10 days. There should be something like the agents calling in their free time to get the KYC done, but they don't.
Other than that, I don't have any other negative complaints till this time. It has been a pleasant experience. The app is good but has some bugs. It is expected as the app is still in Beta and under development. With time, we hope it would get smoother.
Verdict
Fi Bank is a great Savings Bank Account for your secondary uses. People can definitely use it as their secondary bank account. All of the perks are offered for free which makes it stand out. There is a waitlist, so go ahead and register yourself.
The younger you are, the faster you may get access. We really liked it and you should try it as well if you are looking for an alternative bank account. Let us know your thoughts about the future of Neo Banks in India like Fi Money and others.